THE PREFERRED SHREDDING COMPANY OF NOVI, MI
At ElectroCycle, we pride ourselves on being a dependable and reliable shredding company in Novi, MI. Not only do we offer professional shredding services, but we also provide hard drive destruction services to ensure that your sensitive data is completely destroyed and unrecoverable.
Document Shredding Services in Novi, MI

Residential Shredding in Novi, MI

ElectroCycle offers secure document shredding services to residents in Michigan so that you can rest assured your information is safe. They will come right to your residence and shred all of your documents on-site. This is the best way to protect yourself and your family from identity theft.
There are many ways that identity thieves can access your personal information, but one of the most common is through the trash. If you simply discard sensitive documents in the garbage, anyone could easily go through your trash and find them. This is why it's important to have them professionally shredded instead.

Drop-Off Shredding in Novi, MI

You can now drop off your documents for secure shredding at our location. Your documents will be temporarily secured in our locked collection container before being destroyed at the end of each business day. You will receive a Certificate of Destruction proving that your documents have been completely destroyed. Appointment is required.  Call to book your appointment (248) 991-4749.  Our facility is located at 23953 Research Drive Farmington Hills, MI 48335

One-Time Document Shredding in Novi, MI

Do you have boxes of sensitive documents sitting within your office? Free up valuable space and contact us for an annual or semi-annual document purge. We make document purges easy. Our technicians will empty your boxes into our lockable collection carts and shred your documents before leaving your premises.

Scheduled Document Shredding in Novi, MI

If you have sensitive documents taking up space in your office, give us a call to arrange for an annual or semi-annual document purge. Our technicians will come to your office, empty your boxes into our lockable collection carts, and shred the documents before leaving. This way you can clear up some space and rest assured that your confidential information is destroyed.

On-Site Hard Drive Destruction in Novi, MI
This is what will happen once we arrive at your site – we'll take your hard drives and scan each serial number for your records. Then, our mobile shredding truck will shredded the hard discs. The whole process is available to our clients, and they'll receive a Certificate of Destruction afterwards as proof that the hard drive was shredded according to industry standards.
We want to make sure that your data is secure, which is why we follow these strict guidelines when it comes to destroying hard drives. You can rest assured knowing that your information is in good hands with us. 

Drop-Off Hard Drive Destruction in Novi, MI

If you don't have time to destroy your hard drives at your location, we can pick them up and store them in a secure container. Once we arrive at our secure location, we'll scan and record each serial number for your records. The hard drives were shredded and are no longer accessible. An electronic Certificate of Destruction is issued in addition to an email list of hard drives by serial number.
Fully Compliant Hard Drive Shredding in Novi, MI
Our Hard Drive Shredding Process is HIPAA & FACTA Compliant
All hard drives that come to our facility are destroyed in our industrial hard drive shredder, and a certificate of destruction will be provided for your hard drives.
The Health Insurance Portability and Accountability Act (HIPAA) allows fines of up to $250,000 and 10 years in prison for each violation of patient health information privacy rules.
The Gramm-Leach-Bliley Act imposes penalties of up to $100,000 per violation for financial institutions that fail to protect customer information.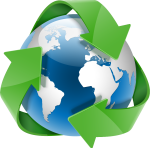 We recycle close to 2 million pounds of paper per year.
Our Shredding Process is Easy!
With one call to ElectroCycle, receive a quote and schedule your document destruction appointment.
Our truck will arrive at your location at the scheduled time.
We Collect Your Documents
Our professional technicians will collect your documents into a locked bin and transport it to the truck for shredding.
Your documents are destroyed at your location while you watch and a certificate of destruction is provided.
ElectroCycle is NAID AAA Certified
NAID® National Association for Information Destruction is the standard-setting body advocating for best practices in secure data destruction. NAID AAA Certification® of secure data destruction service providers fulfills the customer's regulatory obligation.
Protect Your Confidential Information with Secure Document Shredding