THE PREFERRED SHREDDING COMPANY OF LANSING, MI
At ElectroCycle, we are proud to be the trusted and reliable shredding business in Lansing, MI. Our expert team provides onsite and offsite shredding solutions, ensuring the secure destruction of your confidential information. We go the extra mile by offering hard drive destruction services, guaranteeing the complete elimination and irrecoverability of sensitive data.
Document Shredding Services in Lansing, MI

One-Time Document Shredding in Lansing, MI

Is your office space overwhelmed by countless boxes filled with sensitive documents? Regain much-needed room by contacting us to schedule a one-time, annual, or semi-annual document purge. We make the process of decluttering your office from these confidential papers hassle-free. Our team of experienced professionals will carefully transfer your documents into our tamper-proof collection carts, ensuring their security throughout the process. Once all the materials have been transferred, our specialists will proceed to shred them on-site, thereby eliminating any risks associated with off-site destruction. After completing the shredding process, our team will depart from your premises, leaving you with a clutter-free workspace and the peace of mind that comes from knowing your sensitive information has been securely disposed of.

Scheduled Document Shredding in Lansing, MI

In case your office is being overrun by a growing collection of sensitive documents, feel free to reach out to us and set up a yearly or bi-yearly document clearance session. Our team of skilled technicians will pay a visit to your workplace, diligently remove all confidential papers from their storage containers, and place them into our secure, lockable collection carts. Following this, they will proceed to shred the documents onsite before departing from your premises.
By opting for our scheduled shredding services, you'll not only regain valuable office space that was previously occupied by these documents, but also enjoy the peace of mind that comes from knowing that your private information has been thoroughly destroyed.

Residential Shredding in Lansing, MI

At ElectroCycle, we provide secure document shredding services to Michigan residents, ensuring the safety of your information. We will come directly to your home and shred all required documents on-site, offering you and your family the ultimate protection against identity theft.
Numerous methods exist for identity thieves to obtain your personal data, with one of the most prevalent being through trash. Casually disposing of sensitive papers in the garbage allows anyone to easily sift through your waste and locate them. That's why it's essential to opt for professional shredding services as a more secure alternative.

On-Site Hard Drive Destruction in Lansing, MI
Upon arriving at your premises, here's what you can expect from our process – we'll collect your hard drives and systematically scan each serial number for your documentation purposes. Next, our mobile shredding vehicle will proceed to shred the hard disks efficiently. Our clients have the opportunity to witness the entire process, and upon completion, they will receive a Certificate of Destruction as evidence that the hard drives were destroyed in compliance with industry standards.
Our primary goal is to ensure the security of your data, which is why we adhere to rigorous guidelines when it comes to onsite hard drive shredding services. With us, you can have complete confidence that your sensitive information is being handled safely and professionally.

Hard Drive Destruction in Lansing, MI

In case you're unable to allocate time for on-site hard drive destruction, we offer a convenient alternative – we can collect your hard drives and transport them in a secure container to our protected facility. Upon arrival, we'll meticulously scan and document each serial number for your reference. Following this, the hard drives will be thoroughly shredded, rendering the data completely inaccessible. As proof of the secure disposal, you'll receive an electronic Certificate of Destruction along with an emailed list of the destroyed hard drives, sorted by their serial numbers.
Fully Compliant Hard Drive Shredding in Lansing, MI
Our Hard Drive Shredding Process is HIPAA & FACTA Compliant
All hard drives that come to our facility are destroyed in our industrial hard drive shredder, and a certificate of destruction will be provided for your hard drives.
The Health Insurance Portability and Accountability Act (HIPAA) allows fines of up to $250,000 and 10 years in prison for each violation of patient health information privacy rules.
The Gramm-Leach-Bliley Act imposes penalties of up to $100,000 per violation for financial institutions that fail to protect customer information.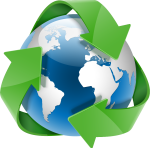 We recycle close to 2 million pounds of paper per year.
Our Shredding Process is Easy!
With one call to ElectroCycle, receive a quote and schedule your document destruction appointment.
Our truck will arrive at your location at the scheduled time.
We Collect Your Documents
Our professional technicians will collect your documents into a locked bin and transport it to the truck for shredding.
Your documents are destroyed at your location while you watch and a certificate of destruction is provided.
ElectroCycle is NAID AAA Certified
NAID® National Association for Information Destruction is the standard-setting body advocating for best practices in secure data destruction. NAID AAA Certification® of secure data destruction service providers fulfills the customer's regulatory obligation.
Protect Your Confidential Information with Secure Document Shredding