THE PREFERRED SHREDDING COMPANY OF BATTLE CREEK, MI
At ElectroCycle, we're experts in document and data destruction, and we're committed to providing our customers with the highest level of service possible. If you're looking for a dependable shredding company in Battle Creek, MI that can also destroy your hard drives, look no further than us. We'll make sure that all of your confidential information is destroyed in a secure and reliable manner.
Document Shredding Services in Battle Creek, MI

Residential Shredding in Battle Creek, MI
If you're worried about identity theft, professional document shredding is a great way to protect yourself. At ElectroCycle, we offer this service to residential customers in Michigan. We'll come right to your home and take care of everything for you. With one call to ElectroCycle, receive a quote, and schedule your residential document destruction appointment.

One-Time Document Shredding in Battle Creek, MI
If you have any sensitive documents sitting in your office, contact us today for a free quote on our document purge services. Our lockable carts are perfect for keeping your documents secure, and we'll shred them on-site so you can free up space in your office. Our technicians will empty your boxes into our lockable collection carts and shred your documents before leaving your premises.

Scheduled Document Shredding in Battle Creek, MI
Our scheduled document shredding service can provide a tailored solution for your needs, ensuring that all of your documents are shredded on a regular basis. This guarantees that your paperwork is disposed of properly and helps to keep your office or workspace organized. You can choose the frequency of the shredding based on how many documents you have, and our team will shred them on-site in our safe containers while you watch. This way, you can be sure that your documents are being destroyed properly.
Fully Compliant Hard Drive Shredding in Battle Creek, MI
Our Hard Drive Shredding Process is HIPAA & FACTA Compliant
All hard drives that come to our facility are destroyed in our industrial hard drive shredder, and certificate of destruction will be provided for your hard drives.
The Health Insurance Portability and Accountability Act (HIPAA) allows fines up to $250,000 and 10 years in prison for each violation of patient health information privacy rules.
The Gramm-Leach-Bliley Act imposes penalties of up to $100,000 per violation for financial institutions that fail to protect customer information.

On-Site Hard Drive Destruction in Battle Creek, MI
Once we arrive at your site, we'll take possession of your hard drives and scan each serial number for your records. The hard discs are then shredded by Electrocycle's mobile shredding truck. The entire method is available to our clients. A Certificate of Destruction is supplied after the operation is completed, proving that the hard drive was shredded according to industry standards.

Hard Drive Destruction in Battle Creek, MI
If you don't have time to destroy your hard drives at your location, we can pick them up and store them in a secure container. Once we arrive at our secure location, we'll scan and record each serial number for your records. The hard drives were shredded and are no longer accessible. An electronic Certificate of Destruction is issued in addition to an email list of hard drives by serial number.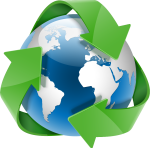 We recycle close to 2 million pounds of paper per year.
Our Shredding Process is Easy!
With one call to ElectroCycle, receive a quote and schedule your document destruction appointment.
Our truck will arrive at your location at the scheduled time.
We Collect Your Documents
Our professional technicians will collect your documents into a locked bin and transport it to the truck for shredding.
Your documents are destroyed at your location while you watch and a certificate of destruction is provided.
ElectroCycle is NAID AAA Certified
NAID® National Association for Information Destruction is the standard-setting body advocating for best practices in secure data destruction. NAID AAA Certification® of secure data destruction service providers fulfills the customer's regulatory obligation.
Protect Your Confidential Information with Secure Document Shredding